Waste Recycling

Permitted Waste
Permitted Waste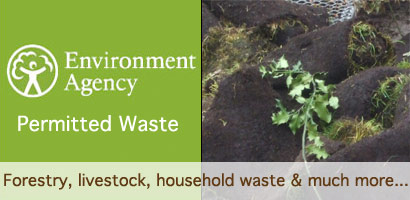 Our Environments Agency license permits us to recycle varying non-hazardous green waste materials, including forestry waste, livestock waste, paper & cardboard and much more.
The following is a detailed list of what James Heyes & Sons can recycle..
Waste from agriculture, horticulture, aquaculture, forestry, hunting and fishing, food preparation and processing (non-hazardous)


plant tissue waste
waste from forestry (comprising wood and plant tissue)
vegetable materials unsuitable for consumption or processing
vegetable waste from washing, cleaning and mechanical reduction of raw materials
green biodegradable waste
livestock waste animal faeces, urine and manure (including spoiled straw), effluent, collected separately and treated off-site
Street cleaning waste from markets - Source segregated vegetable organic matter only. ABP and catering wastes excluded.

Municipal wastes (household waste and similar commercial industrial and institutional wastes)(non-hazardous)


biodegradable waste (compromising wood and plant tissue)
paper and cardboard wastes
paper and cardboard waste from sorting of paper and cardboard destined for recycling
paper and cardboard
wood sawdust, shavings, cuttings, wood, particle board and veneer *
waste bark and wood
woods *

* some restrictions apply.
Opening Times
April to September:
inc. Monday to Friday - 08:30 - 18:00
Saturdays - 08:30 - 18:00
Sunday - 08:30 - 15:00
October to March:
inc. Monday to Friday - 08:30 - 16:00
Saturdays - 08:30 - 16:00
Sunday - 08:30 - 14:00
James Heyes & Sons
Mossborough Hall
Mossborough Hall Lane
Rainford
St Helens
Merseyside
WA11 7JE

Tel: 01744-884711

Email : info@mossborough-hall.co.uk